Rockford East High School
Class Of 1964
Welcome to the Rockford East High School Class Of 1964 website. This new interactive website has been developed for our 50th Class Reunion on August 9, 2014 at the Mauh-Nah-Tee-See Country Club in Rockford. Classmates, please join our website now.
ANNOUNCEMENTS


Reunion Event Cancelled


"The East High School tour, scheduled to
begin at 1PM on Saturday, Aug 9, 2014,
has been cancelled due to the new
renovations under construction" per the
EHS Principal.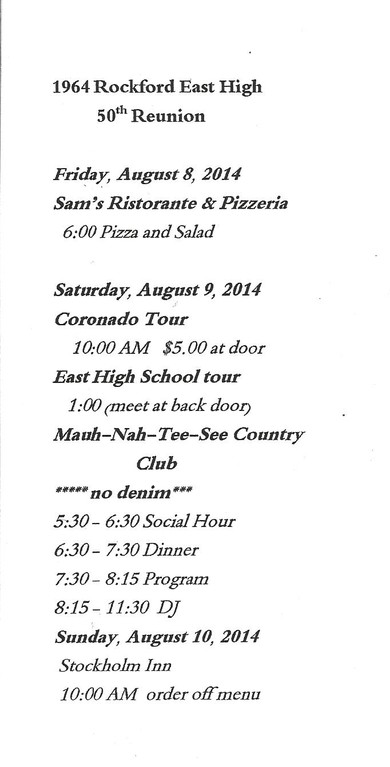 NEW CONSTRUCTION AT EAST HIGH
April 23, 2014... The Rockford School Board voted to build a 63,000-square-foot fieldhouse addition at East High School starting this summer. The board will pay $13,568,000 for the work. The addition includes a 160-meter track, three basketball courts, a multipurpose room and weight room. The project will include a cafeteria addition, an elevator, relocation of the school's main office, addition of a secure front entrance and a new parking lot on 24th Street. Other work includes library demolition, tunnel foundation repair and exterior work on the courtyard. The work should start in May and is expected to wrap up in May 2015. Similar construction is already underway at Auburn and Guilford High Schools. Click on Photos and then click East's Renovations for latest pictures as of 7/12/2014.
Here's a collection of Rockford photos. Click below, then click the first photo and thumb your way through the pages:
http://www.comebackcharlie.com/RockfordFiles/
MISSING CLASSMATES: The "Missing Classmates" button in the left column shows all classmates who have not yet joined our website. The actual list of our missing or lost classmates can be found to the right by using the "Location Unknown" button near the bottom of the "Where We Live" area.
Our new interactive website asks that all of our Rockford East High School Class of 1964 classmates create their own profiles, so we may use this inexpensive way to communicate information about future class reunions. First, go to the JOIN HERE button in the right column and click. Next find your name and click it. Then create a logon ID using your email address and a password. The information you provide and save (details, profile and photos) is locked for classmates eyes only, but only after they login themselves. We are asking that you use the first name you now go by. For example: the formal name like William could be changed to Bill or Will, etc. If you notice any errors anywhere, please contact us. This new website was selected because it can do many things, like posting pictures, sending messages and communicating between classmates. Your class reunion committee is asking that if you know any of our classmates who don't yet know of this new website, that you please let them know it's: www.64rabs.net. Thanks.